RTI PNEUMATIC VIBRATORS
PNEUMATIC VIBRATORS: BALL, TURBINE AND ROLLER
RTI Srl deal in Pneumatic Vibrators for over 20 years on the whole Italian market.
The first offers were made distributing some products of foreign brands, only later RTI started its own production , manufactured in our Turin plant.
Passion, expertise and technical capabilities have led in recent years to realize a full range of pneumatic Ball, Turbine and roller Vibrators.
Today, thanks to new production plant together to new machines, vibrators RTI achieved an high level quality and reliability.
The production and assembly of all the particulars are carefully made in our plant, ensuring fast delivery of all models.

VIBRATION
The vibration is the oscillation of a body around its rest position. Since the vibration is a movement, a body which vibrates has  its own energy.
The vibration technology allows the positive exploitation of this energy which  has enormous possibilities. In practice, vibrations tend to seek matter,  with clear effects on bulk materials. Their strength, properly exploited, can move the pieces in a certain direction, can increase the strength of cohesion in bulk materials (then compact them), can decrease it (making sliding easier).
The applications are countless: in the industrial sector compacting work is necessary  to improve filling of containers and packaging, emptying hoppers and moving parts along transport lines.. Vibrators are components which work as "motors"; they transfer the vibration energy to the objects or to the structure where they are installed. The pneumatic vibrators are driven by compressed air; rotating vibrators are generally used for industrial applications, particularly turbine and ball models.
Turbine vibrators are powered by a turbine, with suitable counterweight which receives an air push on the external toothing  (with a particular profile). Ball vibrators are powered by a steel ball, pushed by air, rolling on special double annular track. In both cases, rotation mass develops a centrifugal force whose direction rapidly changes at every rotation; in practice it swings with a frequency equal to the rotation speed of our vibrator. Most part of application can use indifferently both Turbine and ball vibrators: however in some cases it is preferable to use one type rather than another.
Turbine vibrators have a rotor mounted on sealed and pre-greased bearings, so you can work with dry air; moreover  the various parts are made in non-sparking material (aluminum, brass, etc.). This permits to discharge the air freely in the atmosphere and in any case to use these vibrators in environments where there are problems of pollution (food environment) or anti fire security requirements.
With  vibrators ball we suggest to use lubricated air so to reduce friction and increase its life (the steel ball rolls on special steel racks), therefore it is better to direct exhausts into a suitable treatment plant. As regards noise and the consumption of air, turbine models have higher performance: absence of parts in direct contact and the reduced flow cross-section  grant a high performance with a low noise and low fuel consumption. By contrast, with Ball vibrators, it is possible to reach higher working frequencies.
Among pneumatic rotating vibrators also roller models must also be considered. Push  is provided by a steel roller that runs, pushed by air, on two proper tracks. These structural characteristics (roller with high weight and inertia, high air passage) give different performance than the two previous models: the frequency and thrust load  are very high, but the efficiency is reduced. As a rule, applications where vibrator roller is preferred are very few. In any case, the alternative with turbine and ball vibrators is always valid.

TYPE VIBRATORS
Below you can find main technical features for all three RTI Vibrator type:
BALL VIBRATORS

CHARACTERISTICS: These vibrators are powered by a ball, pushed by air, rolling on two hardened steel races. For these models, because there is friction (even if rolling) between steel parts during the balls movement, it is preferable to use lubricated air, to increase the vibrators life. It is not mandatory to work with lubricated air, ball vibrators can also work with dry or dirty air, in this case there will be an increase of noise and wear. In comparison with turbine the ball shape is much less suitable to receive the air push; moreover the clearance between the ball and the vibrator body allows the flow of a greater air volume. In practice the efficiency is lower, whilst air consumption and noise are higher. In any case ball vibrators usually work at higher frequency. Most common applications are: handling of small parts (i.e. bolts and screws), unloading of small hoppers and sieving plants.
TURBINE VIBRATORS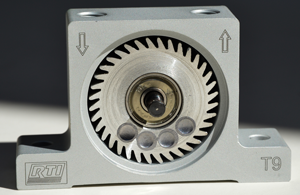 CHARACTERISTICS: These vibrators are powered by a turbine, with suitable lead counterweights, put on rotation by air. Turbine is supported by screened and pre-greased bearings, therefore lubricated air is not necessary; for this reason these models are suitable for environments were a high cleanliness is required (such as food or pharmaceutical industry). Anti-spark materials of vibrators such as aluminium and brass with its function, without any slithering between parts, allows to use them in fire hazard environements. The turbine contour, the feeding ports shape and their position, are designed to obtain maximum performances; moreover the clearance between turbine and body is very small and allows the total exploitation of air push. Due to these characteristics, the efficiency is very high while air consumption and especially the noise, are very low. Efficiency, referred to all the models, shows the ratio between under load and no-load performances (force and frequency). On request special versions are available: completely  proof, for aggressive environments, for high temperature, etc.
ROLLER VIBRATORS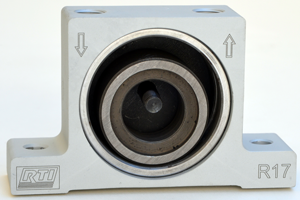 CHARACTERISTICS: These vibrators are powered  by a roller, pushed by air, rolling on two hardened steel tracks. Also for these models, and in the ball version, it is preferable to use lubricated air to increase vibrators life, because there is friction between steel parts during the rollers movement. It is not mandatory to work with lubricated air; roller vibrators can also work with dry or dirty air, there will be only an increase of noise and wear. Also for these models, the rotor shape does not allow the best employ of the air push; the clearance between roller and body is a further limit, since it allows a high free flow of air. For these reasons the efficiency is low, even more than in ball models, whilst noise and air consumption are higher. In practice these models can reach high forces and frequencies, but are also severely affected by load.

APPLICATION EXAMPLE
Exhaust dust for foundry and cement industry



Tubes shaking in plastic product transport 
Hoppers unload in food industry
Product distribution in food and pharmaceutical industry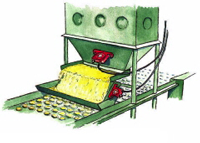 Compact and test products in pharmaceutical industry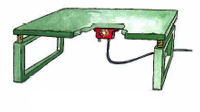 General products handling and transport (food, pharmaceutical and transport industry)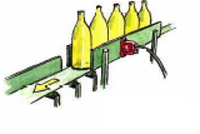 INSTALLATION INSTRUCTIONS
Download installation instructions according to the application.

RTI VIBRATOR MAIN CATALOGUE
Download the complete RTI vibrator main catalog:  Catalogo Generale Vibratori RTI

RTI VIBRATORS 3D DRAWING
Download files in Drawing download page: Download Disegni.

RELATED PRODUCTS
To isolate vibrations produced by RTI vibrators, ACEOLATOR can be used. Download the complete catalogue at ACE antivibrating products:  Scarica il catalogo completo dei prodotti ACEolator: